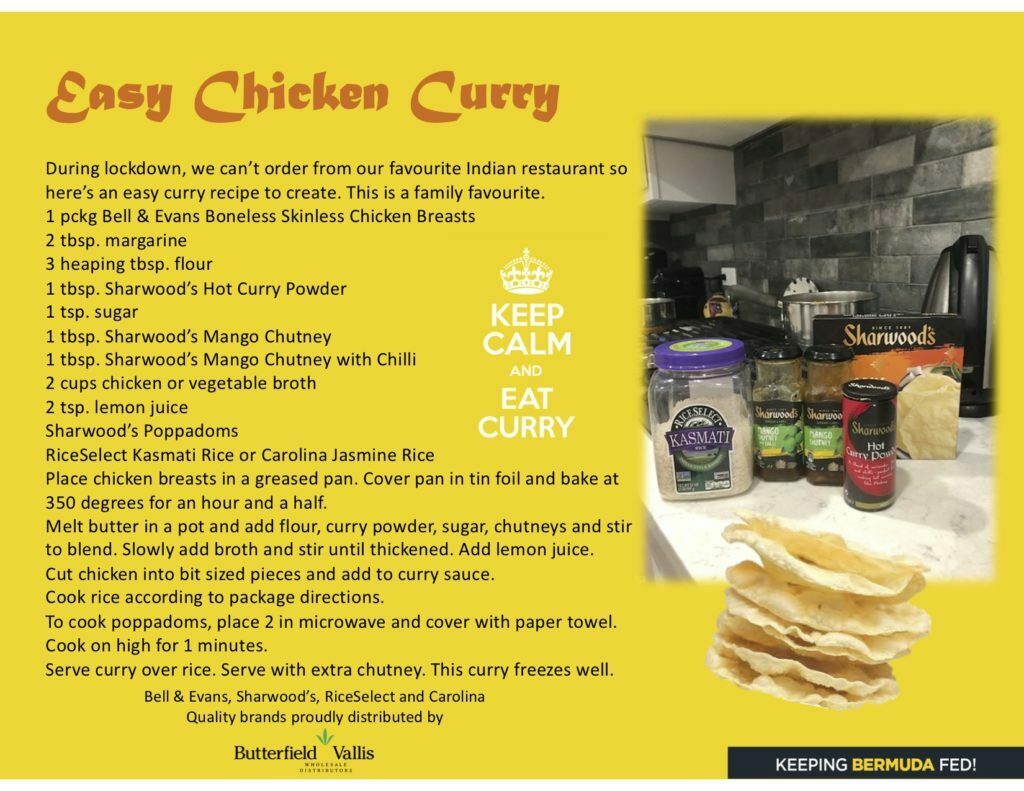 During lockdown, we can't order from our favourite Indian restaurant so here's an easy curry recipe to This is a family favourite.
1 pckg Bell & Evans Boneless Skinless Chicken Breasts
2 tbsp. margarine
3 heaping tbsp. flour
1 tbsp. Sharwood's Hot Curry Powder
1 tsp. sugar
1 tbsp. Sharwood's Mango Chutney
1 tbsp. Sharwood's Mango Chutney with Chil
2 cups chicken or vegetable broth
2 tsp. lemon juice
Sharwood's Poppadoms
RiceSelect Kasmati Rice or Carolina Jasmine Rice
Place chicken breasts in a greased pan. Cover pan in tin foil and bake at 350 degrees for an hour and a half.
Melt butter in a pot and add flour, curry powder, sugar, chutneys and stir to blend. Slowly add broth and stir until thickened. Add lemon juice.
Cut chicken into bit sized pieces and add to curry sauce.
Cook rice according to package directions.
To cook poppadoms, place 2 in microwave and cover with paper towel. Cook on high for 1 minutes.
Serve curry over rice. Serve with extra chutney. This curry freezes well.