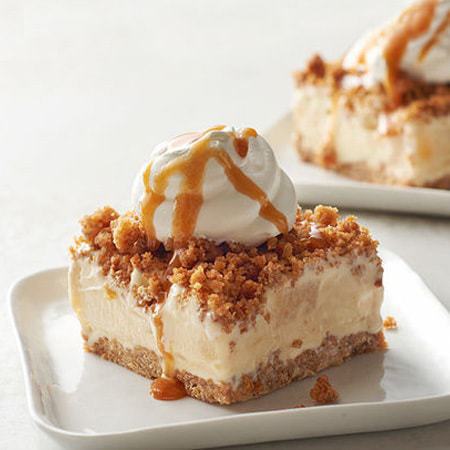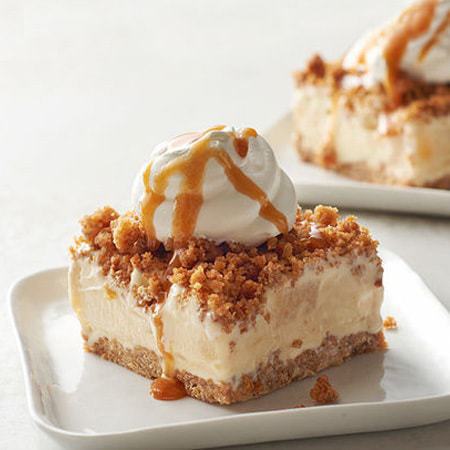 1 box Nature Valley™ granola bars, crushed into coarse crumbs
1/2 cup Gold Medal™ all-purpose flour
1/3 cup packed light brown sugar
6 tablespoons unsalted butter, melted
3 cups softened vanilla ice cream
3/4 can apple pie filling (chop up the apple pieces)
1/4 cup caramel sauce, plus extra for serving
DIRECTIONS
1.Preheat the oven to 350ºF.
2. Place the Nature Valley granola bars in a food processor and process to a coarse crumb consistency. In a large mixing bowl, add the granola bar crumbs, flour, brown sugar and melted butter and stir to mix together. Spread the mixture out onto a pan lined with parchment paper and bake for 20 minutes, stirring occasionally. Let cool completely. Spread half of the crumb mixture onto the bottom of an 8×8-inch baking dish. Reserve the other half of the crumbs.
3.In a large mixing bowl, add the softened ice cream and stir in the apple pie pieces and caramel sauce. Pour the mixture over the crumbs in the 8×8-inch baking dish. Sprinkle the remaining crumbs over the top, cover with aluminum foil and freeze for at least 3 hours.
4. Cut into squares and serve with whipped cream and caramel sauce.