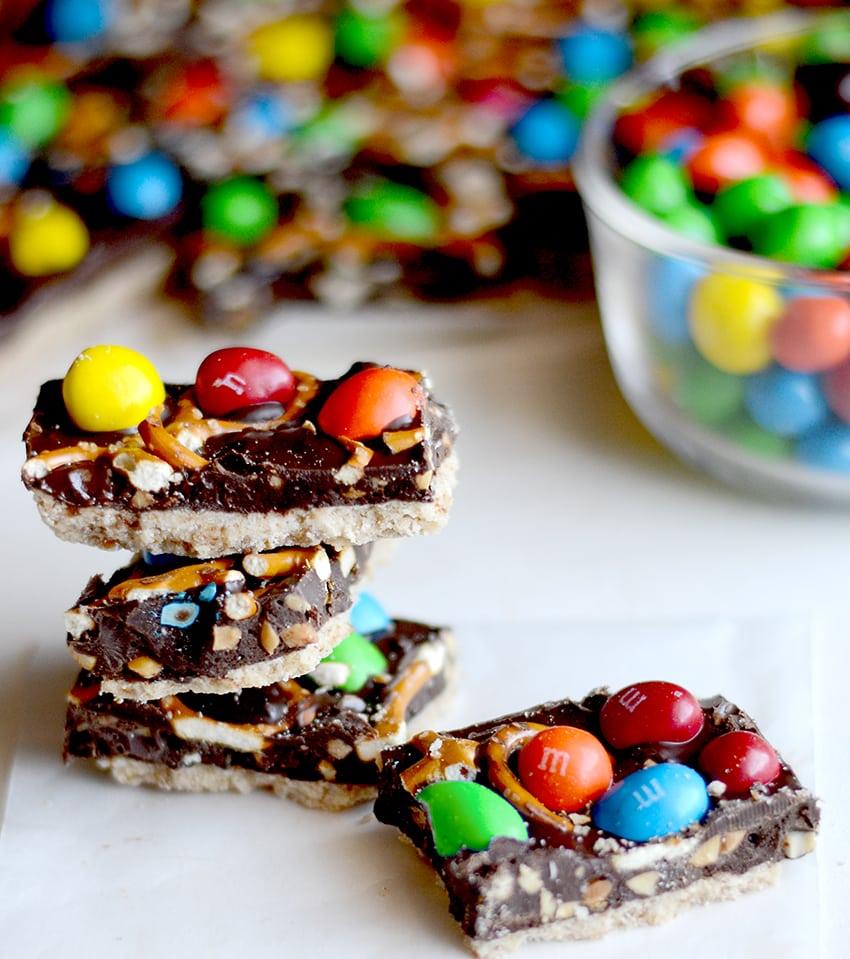 [cmsms_row][cmsms_column data_width="1/1″][cmsms_heading type="h1″ font_family="Roboto+Condensed:400,400italic,700,700italic" font_weight="normal" font_style="normal" text_align="center" margin_top="0″ margin_bottom="20″ animation_delay="0″]An easy to make, no bake, sweet & salty crunch![/cmsms_heading][cmsms_text]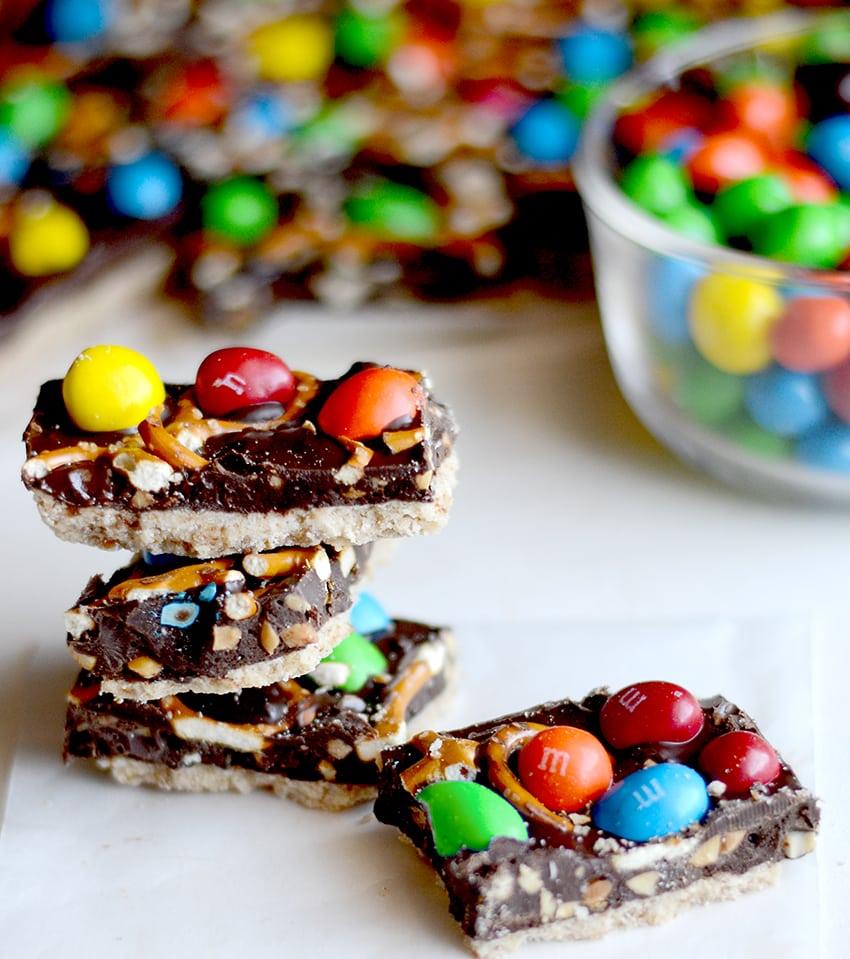 [/cmsms_text] [cmsms_text]
[/cmsms_text][/cmsms_column][/cmsms_row][cmsms_row][cmsms_column data_width="1/2″][cmsms_text]
Ingredients
For crust:
-1 ½ cups all purpose flour
-¾ cup ground pretzels, measure after grinding
-1/3 cup confectioners' sugar
-½ cup plus 2 Tbsp. melted salted butter
For filling:
-2 cups semisweet chocolate chips
-1 cup crunchy peanut butter
-1 cup coarsely chopped pretzels for topping
-1 ½ cups Peanut M&M's
[/cmsms_text][/cmsms_column][cmsms_column data_width="1/2″][cmsms_text animation_delay="0″]
Directions
Preheat the oven to 350°F. Line a 9″ x 13″ baking pan with parchment. The parchment paper should hang over the ends to make a sling for lifting out of the pan.

For the crust: with a fork mix the flour, ground pretzels, and sugar. Add the melted butter and mix until it becomes soft dough (will not be wet dough).

Press dough into pan and bake for 10 to 12 minutes. Don't let the crust brown. Let this cool completely before next step.

For the filling: Melt and temper the chocolate chips in double boiler or in microwave. Add the peanut butter and stir until smooth. Pour the filling over the crust.

Spread the filling evenly over the crust, and tap the pan on the counter a few times to remove air bubbles. Top the filling with the pretzels and Peanut M&M's

Chill in the freezer for 45 to 60 minutes. Use the parchment paper sling to lift the bars out of the pan. Slice into squares or bars. You can serve frozen; just chilled, or at room temperature — these bars are great no matter how you serve them!
[/cmsms_text][/cmsms_column][/cmsms_row]