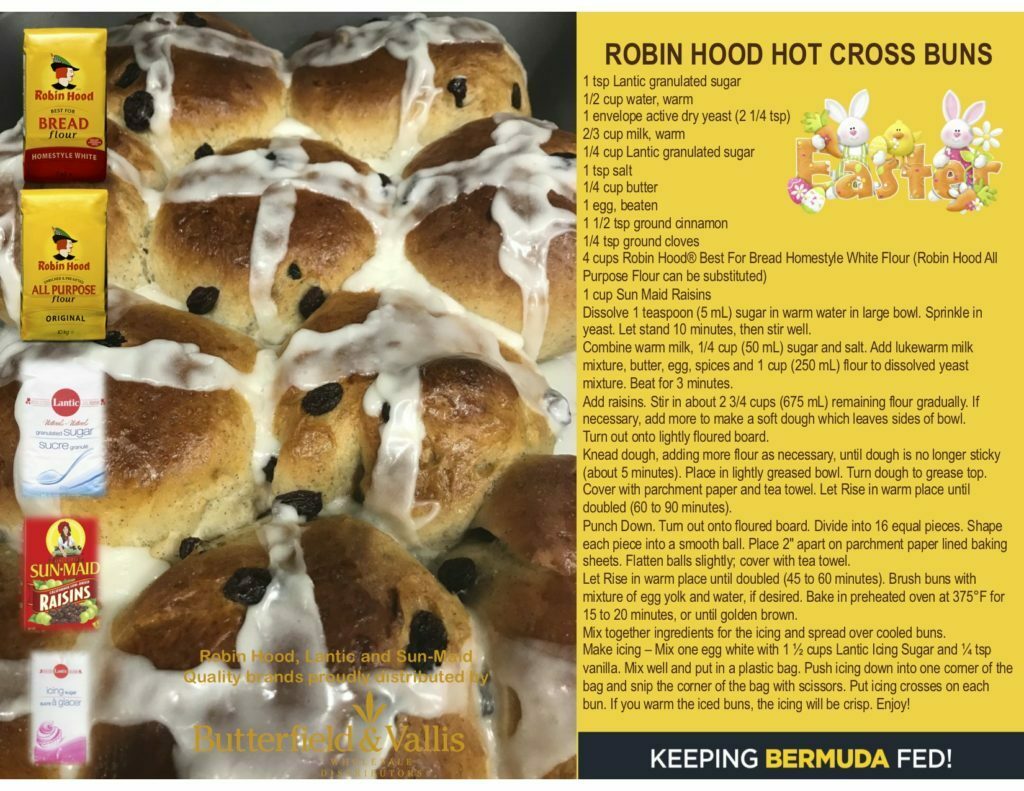 ROBIN HOOD HOT CROSS BUNS
1 tsp Lantic granulated sugar
1/2 cup water, warm
1 envelope active dry yeast (2 1/4 tsp)
2/3 cup milk, warm
1/4 cup Lantic granulated sugar
1 tsp salt
1/4 cup butter
1 egg, beaten
1 1/2 tsp ground cinnamon
1/4 tsp ground cloves
4 cups Robin Hood® Best For Bread Homestyle White Flour (Robin Hood All Purpose Flour can be substituted)
1 cup Sun Maid Raisins
Dissolve 1 teaspoon (5 mL) sugar in warm water in large bowl. Sprinkle in yeast. Let stand 10 minutes, then stir well.
Combine warm milk, 1/4 cup (50 mL) sugar and salt. Add lukewarm milk mixture, butter, egg, spices and 1 cup (250 mL) flour to dissolved yeast mixture. Beat for 3 minutes.
Add raisins. Stir in about 2 3/4 cups (675 mL) remaining flour gradually. If necessary, add more to make a soft dough which leaves sides of bowl.
Turn out onto lightly floured board.
Knead dough, adding more flour as necessary, until dough is no longer sticky (about 5 minutes). Place in lightly greased bowl. Turn dough to grease top. Cover with parchment paper and tea towel. Let Rise in warm place until doubled (60 to 90 minutes).
Punch Down. Turn out onto floured board. Divide into 16 equal pieces. Shape each piece into a smooth ball. Place 2″ apart on parchment paper lined baking sheets. Flatten balls slightly; cover with tea towel.
Let Rise in warm place until doubled (45 to 60 minutes). Brush buns with mixture of egg yolk and water, if desired. Bake in preheated oven at 375°F for 15 to 20 minutes, or until golden brown.
Mix together ingredients for the icing and spread over cooled buns.
Make icing – Mix one egg white with 1 ½ cups Lantic Icing Sugar and ¼ tsp vanilla. Mix well and put in a plastic bag. Push icing down into one corner of the bag and snip the corner of the bag with scissors. Put icing crosses on each bun. If you warm the iced buns, the icing will be crisp. Enjoy!