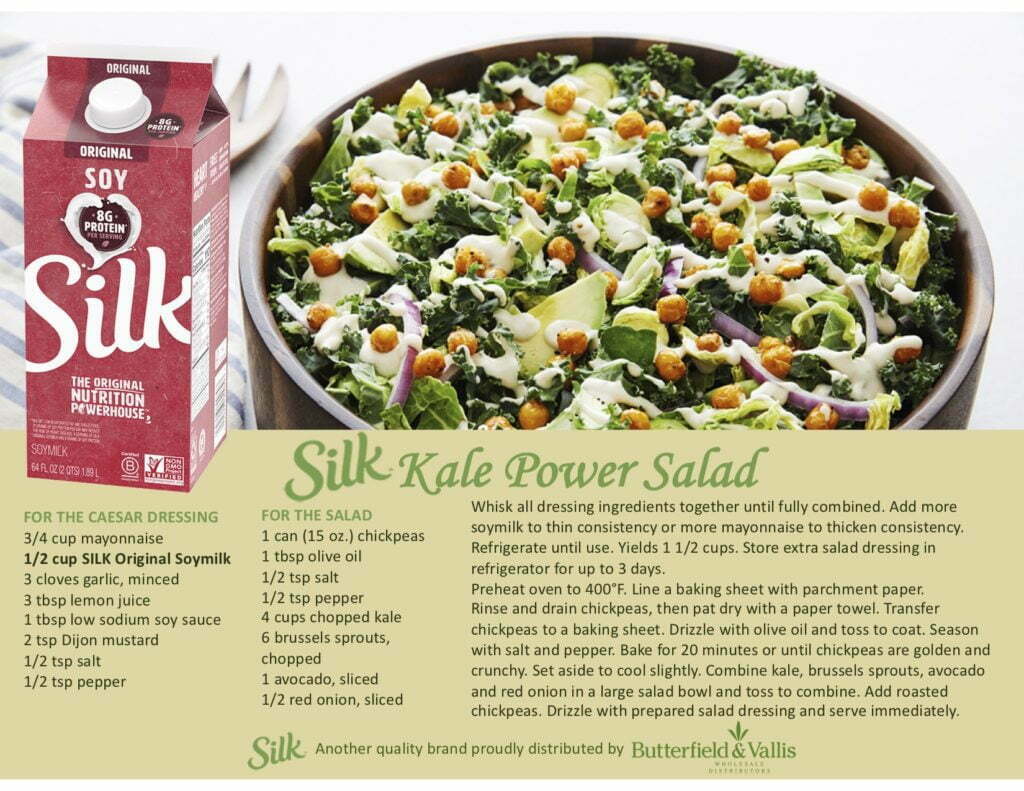 FOR THE CAESAR DRESSING
3/4 cup mayonnaise
1/2 cup SILK Original Soymilk
3 cloves garlic, minced
3 tbsp lemon juice
1 tbsp low sodium soy sauce
2 tsp Dijon mustard
1/2 tsp salt
1/2 tsp pepper
FOR THE SALAD
1 can (15 oz.) chickpeas
1 tbsp olive oil
1/2 tsp salt
1/2 tsp pepper
4 cups chopped kale
6 brussels sprouts, chopped
1 avocado, sliced
1/2 red onion, sliced
Whisk all dressing ingredients together until fully combined. Add more soymilk to thin consistency or more mayonnaise to thicken consistency. Refrigerate until use. Yields 1 1/2 cups. Store extra salad dressing in refrigerator for up to 3 days.
Preheat oven to 400°F. Line a baking sheet with parchment paper.
Rinse and drain chickpeas, then pat dry with a paper towel. Transfer chickpeas to a baking sheet. Drizzle with olive oil and toss to coat. Season with salt and pepper. Bake for 20 minutes or until chickpeas are golden and crunchy. Set aside to cool slightly. Combine kale, brussels sprouts, avocado and red onion in a large salad bowl and toss to combine. Add roasted chickpeas. Drizzle with prepared salad dressing and serve immediately.