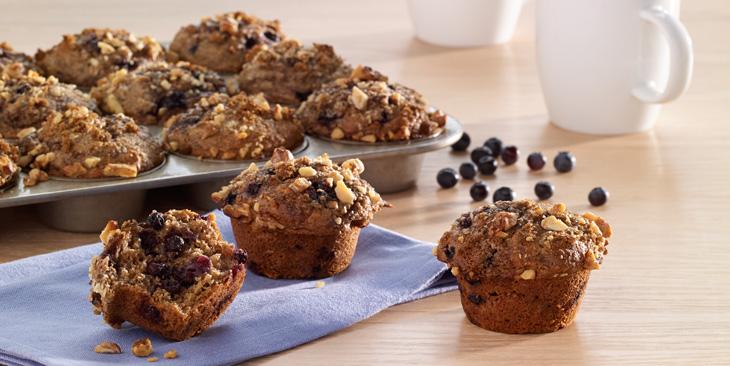 [cmsms_row data_padding_left="3″ data_padding_right="3″ data_bg_position="top center" data_bg_repeat="no-repeat" data_bg_attachment="scroll" data_bg_size="cover" data_bg_parallax_ratio="0.5″ data_width="boxed" data_color="default" data_padding_top="0″ data_padding_bottom="50″][cmsms_column data_width="1/1″][cmsms_image align="center" link="http://butterfieldv.wpengine.com/wp-content/uploads/2017/06/wild-blue-bran-muff.jpg" animation_delay="0″]2625|http://butterfieldv.wpengine.com/wp-content/uploads/2017/06/wild-blue-bran-muff.jpg|full[/cmsms_image][/cmsms_column][/cmsms_row][cmsms_row data_padding_left="3″ data_padding_right="3″ data_bg_position="top center" data_bg_repeat="no-repeat" data_bg_attachment="scroll" data_bg_size="cover" data_bg_parallax_ratio="0.5″ data_width="boxed" data_color="default" data_padding_top="0″ data_padding_bottom="50″][cmsms_column data_width="1/2″][cmsms_text animation_delay="0″]
Ingredients (makes 12 muffins)
1 1⁄4 cup All-purpose flour
1⁄2 cup sugar
1 tablespoon Baking powder
1⁄4 teaspoon Salt
1 1⁄4 cup Fat-free milk
2 cups Bran cereal (such as All-Bran)
1 Large egg or 2 egg whites
1 teaspoon Vanilla
1⁄4 cup Vegetable oil
3 cups Wyman's Frozen Wild Blueberries
1 1⁄2 cup Walnuts
3 tablespoons Brown sugar (optional
[/cmsms_text][/cmsms_column][cmsms_column data_width="1/2″][cmsms_text animation_delay="0″]
Directions
Preheat oven to 375°F.
In large bowl, combine bran cereal and milk. Let stand about 5 minutes or until softened. Sift together flour, sugar, baking powder and salt. Set aside. Add egg, vanilla and oil to softened cereal mixture and mix thoroughly. Add flour mixture, stirring only until just combined. Do not beat. Fold in walnuts. Gently fold in Wild Blueberries.
Portion evenly in 12, 2 1/2-inch muffin tins coated with cooking spray. Sprinkle each uncooked muffin with 1/2 teaspoon of brown sugar, if desired. Bake 30 to 40 minutes.
[/cmsms_text][/cmsms_column][/cmsms_row]