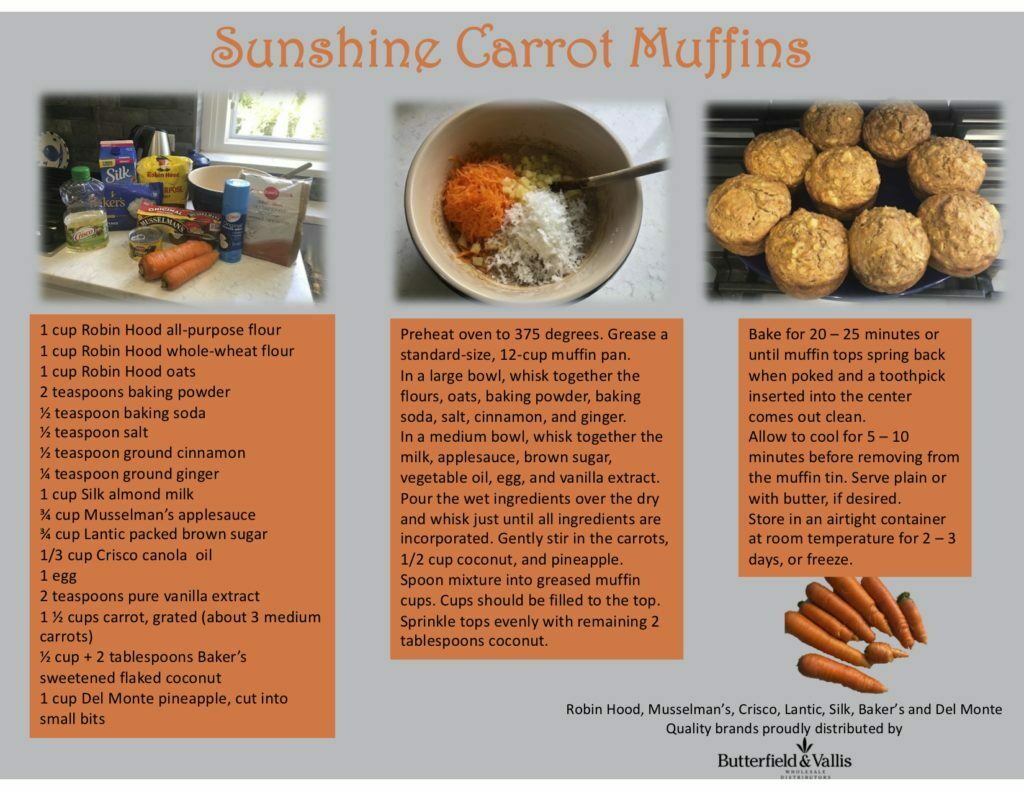 1 cup Robin Hood all-purpose flour
1 cup Robin Hood whole-wheat flour
1 cup Robin Hood oats
2 teaspoons baking powder
½ teaspoon baking soda
½ teaspoon salt
½ teaspoon ground cinnamon
¼ teaspoon ground ginger
1 cup Silk almond milk
¾ cup Musselman's applesauce
¾ cup Lantic packed brown sugar
1/3 cup Crisco canola oil
1 egg
2 teaspoons pure vanilla extract
1 ½ cups carrot, grated (about 3 medium carrots)
½ cup + 2 tablespoons Baker's sweetened flaked coconut
1 cup Del Monte pineapple, cut into small bits
Preheat oven to 375 degrees. Grease a standard-size, 12-cup muffin pan.
In a large bowl, whisk together the flours, oats, baking powder, baking soda, salt, cinnamon, and ginger.
In a medium bowl, whisk together the milk, applesauce, brown sugar, vegetable oil, egg, and vanilla extract.
Pour the wet ingredients over the dry and whisk just until all ingredients are incorporated. Gently stir in the carrots, 1/2 cup coconut, and pineapple.
Spoon mixture into greased muffin cups. Cups should be filled to the top.
Sprinkle tops evenly with remaining 2 tablespoons coconut.
Bake for 20 – 25 minutes or until muffin tops spring back when poked and a toothpick inserted into the center comes out clean.
Allow to cool for 5 – 10 minutes before removing from the muffin tin. Serve plain or with butter, if desired.
Store in an airtight container at room temperature for 2 – 3 days, or freeze.