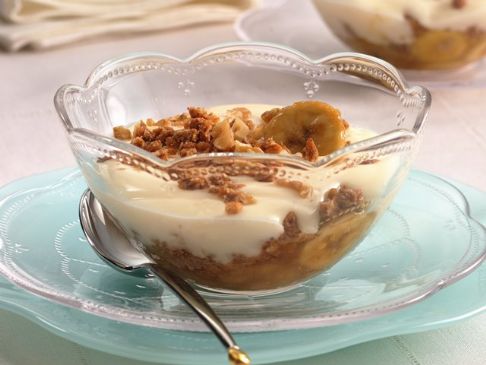 1teaspoon butter or margarine
1/4cup chopped walnuts
2tablespoons packed brown sugar
2firm, ripe large bananas, sliced
1/4cup orange juice
1/4teaspoon rum extract, if desired
4Nature Valley™ Oats 'n Honey Crunchy Granola Bars (2 pouches from 8.9-oz. box), unwrapped
4(6-oz.) containers Yoplait® Light Fat Free Very Vanilla Yogurt
4teaspoons chopped walnuts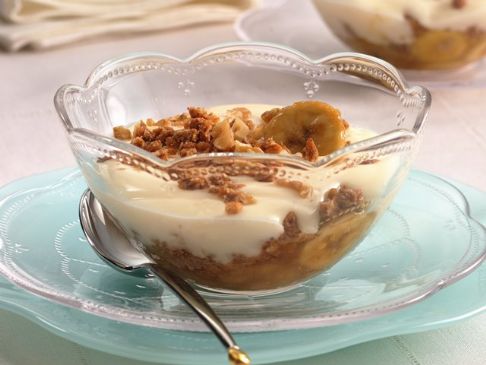 In 8-inch skillet, melt butter over medium heat. Add 1/4 cup walnuts and the brown sugar; stir until sugar is melted. Add bananas; cook 1 to 2 minutes, stirring gently, until bananas are coated.
Stir in orange juice and rum extract. Cook an additional minute or until liquid is thick and syrupy. Remove from heat. Reserve 4 banana slices for garnish.
For each serving, spoon about 1/3 cup remaining banana mixture into each 10-oz. dessert bowl. Chop 1 granola bar; reserve 2 teaspoons for garnish. Sprinkle remaining chopped granola over banana mixture. Spoon 1 container yogurt over granola.
Garnish each serving with 1 teaspoon walnuts, reserved 2 teaspoons chopped granola and 1 reserved banana slice. Serve immediately.