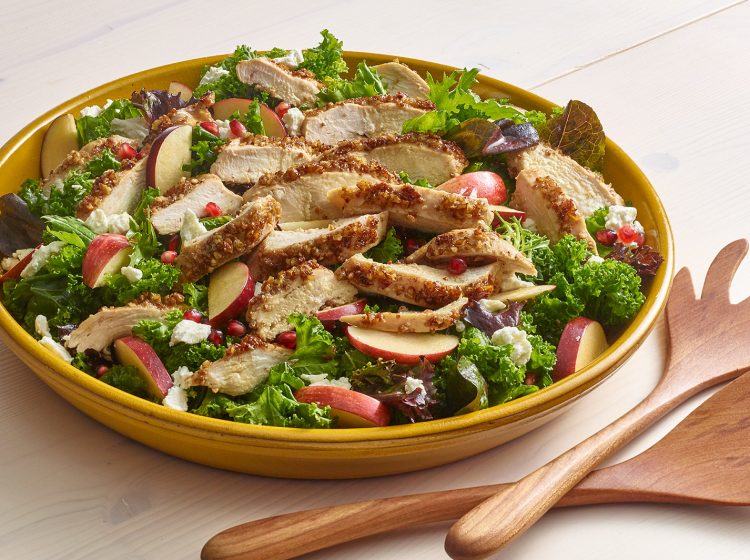 [cmsms_row data_width="boxed" data_padding_left="3″ data_padding_right="3″ data_color="default" data_bg_position="top center" data_bg_repeat="no-repeat" data_bg_attachment="scroll" data_bg_size="cover" data_bg_parallax_ratio="0.5″ data_padding_top="0″ data_padding_bottom="50″][cmsms_column data_width="1/2″][cmsms_image align="center" animation_delay="0″]http://butterfieldv.wpengine.com/wp-content/themes/agrofields/framework/admin/inc/img/image.png[/cmsms_image][cmsms_heading type="h1″ font_weight="normal" font_style="normal" text_align="left" margin_top="0″ margin_bottom="20″ animation_delay="0″]INGREDIENTS[/cmsms_heading][cmsms_text animation_delay="0″]
Dressing
3 T White balsamic vinegar
1 T Maple syrup
1 tsp Grainy mustard
3 T Olive oil
Salt & pepper, to taste
Pecan Chicken
2 T Maple syrup
2 T Grainy mustard
Salt & pepper, to taste
4 Bell & Evans boneless skinless breasts
6 ounces of pecans, finely ground
4 T Unsalted butter
Salad
1 Head of kale, washed, stems removed & roughly chopped
4 oz. mixed greens, washed
1 Honey crisp apple, cored, cut into 4 & thinly sliced
4 oz. Goat cheese crumbles, for garnish
1/3 Cup pomegranate seeds, for garnish
[/cmsms_text][/cmsms_column][cmsms_column data_width="1/2″][cmsms_text animation_delay="0″]
Recipe description. Mouse over and click the pencil to add copy.
[/cmsms_text][cmsms_heading type="h1″ font_weight="normal" font_style="normal" text_align="left" margin_top="0″ margin_bottom="20″ animation_delay="0″]DIRECTIONS[/cmsms_heading][cmsms_text animation_delay="0″]
Dressing
Combine balsamic vinegar, maple syrup and mustard. Blend ingredients well.
Slowly whisk in olive oil until well emulsified.
Season with salt and pepper.
Pecan Chicken
Preheat oven to 350°F.
In a medium sized bowl blend maple syrup and mustard. Season with salt and pepper.
Add chicken to bowl and mix until well coated.
Place pecans on a large baking sheet. Gently press both sides of chicken into nuts ensuring they stick.
Melt butter over medium heat in a large skillet. Sauté chicken until golden brown. Approximately 5 minutes per side.
Place chicken in a 350°F oven for 10-15 minutes until thoroughly cooked to an internal temperature of 170°F as measured by a meat thermometer. Allow to rest and cool.
Salad
Combine kale, mixed greens, and apple. Toss with dressing.
Garnish with goat cheese & pomegranate seeds.
Top with sliced pecan-crusted chicken.
[/cmsms_text][/cmsms_column][/cmsms_row][cmsms_row data_width="boxed" data_padding_left="3″ data_padding_right="3″ data_color="default" data_bg_position="top center" data_bg_repeat="no-repeat" data_bg_attachment="scroll" data_bg_size="cover" data_bg_parallax_ratio="0.5″ data_padding_top="0″ data_padding_bottom="50″][cmsms_column data_width="1/2″][/cmsms_column][cmsms_column data_width="1/2″][/cmsms_column][/cmsms_row]