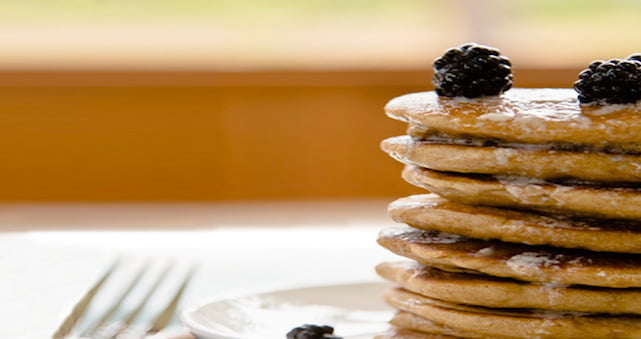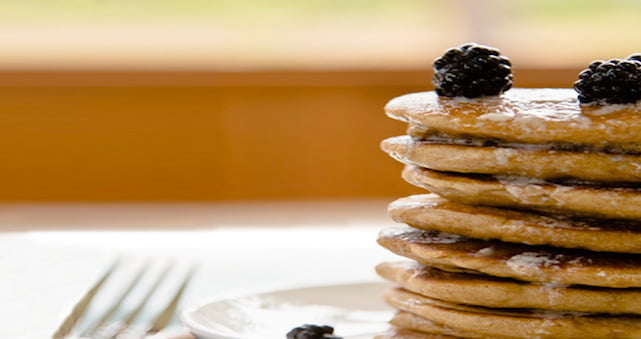 1 cup old-fashioned oats
1/2 cup all purpose flour
2 Tbsp. flax seeds
1 teaspoon baking soda
1/4 teaspoon salt
2 cups Oikos® Greek  vanilla yogurt
2 large eggs
2 Tbsp. agave or honey
2 Tbsp. canola oil
Syrup
Directions
Prep Time: 15 minutes
Cook/Rest Time: 35 minutes
Preheat oven to 250 degrees F.
1. Combine first five ingredients in a blender and pulse process 30 seconds. Add yogurt, eggs, oil and agave and blend until smooth. Let batter stand to thicken, about 20 minutes. (Batter can be prepared up to 1 day in advance; cover batter and refrigerate).
2. Heat large non-stick skillet over medium heat. Brush skillet with oil. Working in batches, ladle batter by 1/4 cupfuls into skillet. Cook pancakes until bottoms are golden brown and bubbles form on top, about 2 minutes. Turn pancakes over; cook until bottoms are golden brown, about 2 minutes. Transfer to baking sheet. Keep warm in oven. Repeat with remaining batter, brushing skillet with more butter as necessary. Serve with syrup and fresh fruit.