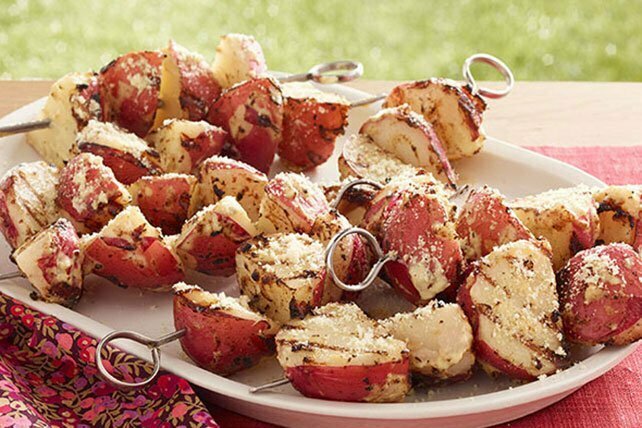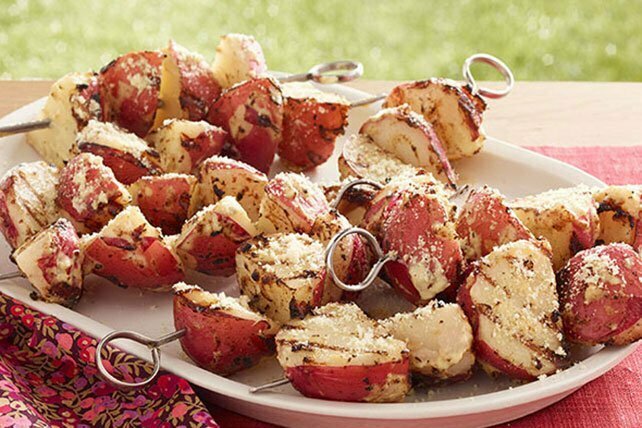 2 lb. red potatoes (about 8)
1/4 cup water
3/4 cup KRAFT Real Mayo Mayonnaise
2 Tbsp. GREY POUPON Dijon Mustard
1/2 tsp. black pepper
2 Tbsp. KRAFT Grated Parmesan Cheese
Prick potatoes with fork; place in 3-qt. microwaveable casserole. Add water; cover with lid. Microwave on HIGH 10 to 12 min. or until potatoes are almost tender. Drain; rinse with cold water. Cool.
Cut potatoes into quarters. Mix mayo, mustard and pepper in large bowl. Add potatoes; toss to coat. Refrigerate 1 hour.
Heat greased grill to medium heat. Thread potatoes onto 8 small metal skewers; brush with mayo mixture remaining in bowl. Grill 8 to 10 min. or until potatoes are tender and golden brown, turning after 5 min. Transfer to platter; sprinkle with cheese.