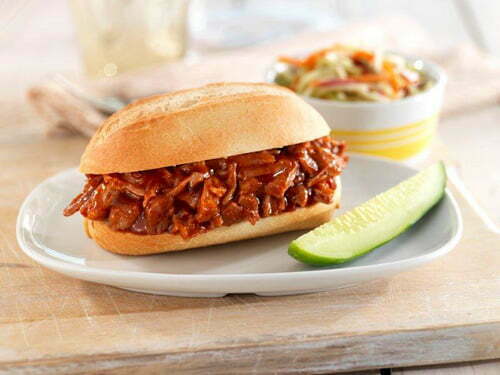 PAM® Original No-Stick Cooking Spray
3 pounds boneless pork shoulder, cut into large chunks
2 cans (6 oz each) Hunt's® Tomato Paste
1/2 cup light mayonnaise
3 tablespoons Gulden's® Spicy Brown Mustard
3 tablespoons honey
1 pkg (16 oz each) tri-color coleslaw mix
1/4 cup raisins
1/4 cup golden raisins
1 cup Open Pit® Original Barbecue Sauce
1/2 teaspoon salt
2 pkgs (16 oz each) French bread rolls (6-inch), cut in half lengthwise
STEP ONE Spray inside of slow cooker with cooking spray. Place pork in slow cooker; spread tomato paste over pork; do not stir. Cook, covered, on LOW 8 to 10 hours (or HIGH 4 to 6 hours).
STEP TWO Meanwhile, make coleslaw. Whisk together mayonnaise, mustard and honey in large bowl. Add coleslaw mix and both raisins; toss until well combined. Cover and refrigerate at least 2 hours before serving.
STEP THREE Shred cooked pork with 2 long-handled forks, blending with tomato paste. Stir in barbecue sauce and salt.
STEP FOUR Spoon 1/2 cup shredded pork onto each roll. Add 1/4 cup coleslaw. Serve immediately.