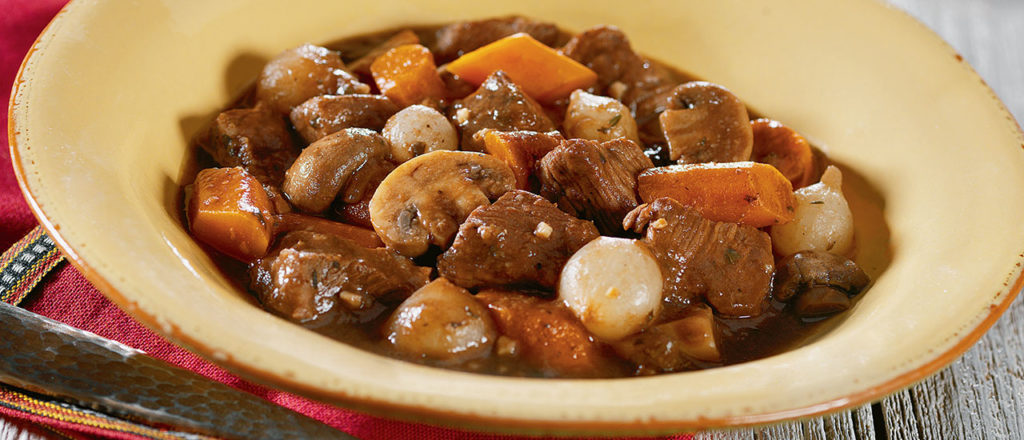 1 1/2 pounds boneless beef bottom round (rump) roast or chuck pot roast, cut into 1-inch pieces
1 dash ground black pepper
1/4 cup all-purpose flour
2 tablespoons vegetable oil
1 can (10 1/2 ounces) Campbell's® Condensed French Onion Soup
1 cup Burgundy or other dry red wine
2 cloves garlic, minced
1 teaspoon Italian seasoning, crushed
10 ounces mushrooms, cut in half (about 3 cups)
3 medium carrot, cut into 2-inch pieces (about 1 1/2 cups)
1 cup frozen pearl onions
1/4 cup water
Season the beef with the black pepper. Coat the beef with 2 tablespoons flour. Heat the oil in a 12-inch skillet over medium-high heat. Add the beef and cook until well browned, stirring often.Stir the beef, soup, wine, garlic, Italian seasoning, mushrooms, carrots and onions in a 3 1/2-quart slow cooker. Cover and cook on LOW for 10 to 11 hours* or until the beef is fork-tender. Stir the remaining flour and water in a small bowl until the mixture is smooth. Stir the flour mixture in the cooker. Increase the heat to HIGH. Cover and cook for 15 minutes or until the mixture boils and thickens.