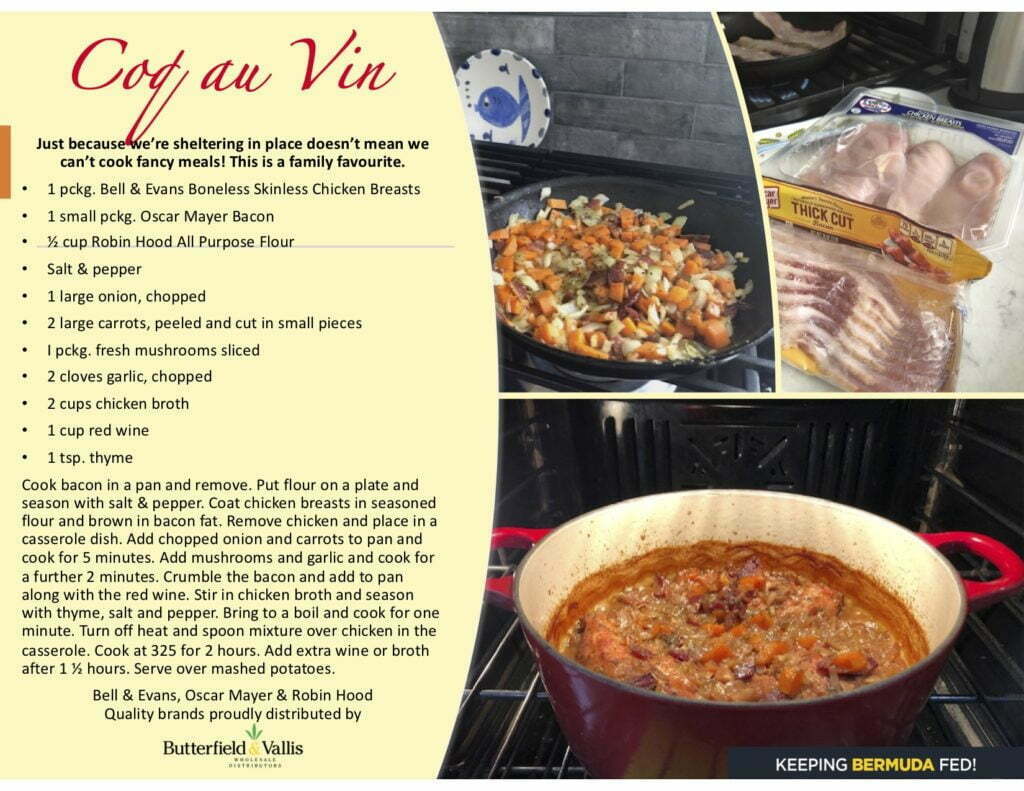 Just because we're sheltering in place doesn't mean we can't cook fancy meals! This is a family favourite.
1 pckg. Bell & Evans Boneless Skinless Chicken Breasts
1 small pckg. Oscar Mayer Bacon
½ cup Robin Hood All Purpose Flour
Salt & pepper
1 large onion, chopped
2 large carrots, peeled and cut in small pieces
I pckg. fresh mushrooms sliced
2 cloves garlic, chopped
2 cups chicken broth
1 cup red wine
1 tsp. thyme
Cook bacon in a pan and remove. Put flour on a plate and season with salt & pepper. Coat chicken breasts in seasoned flour and brown in bacon fat. Remove chicken and place in a casserole dish. Add chopped onion and carrots to pan and cook for 5 minutes. Add mushrooms and garlic and cook for a further 2 minutes. Crumble the bacon and add to pan along with the red wine. Stir in chicken broth and season with thyme, salt and pepper. Bring to a boil and cook for one minute. Turn off heat and spoon mixture over chicken in the casserole. Cook at 325 for 2 hours. Add extra wine or broth after 1 ½ hours. Serve over mashed potatoes.